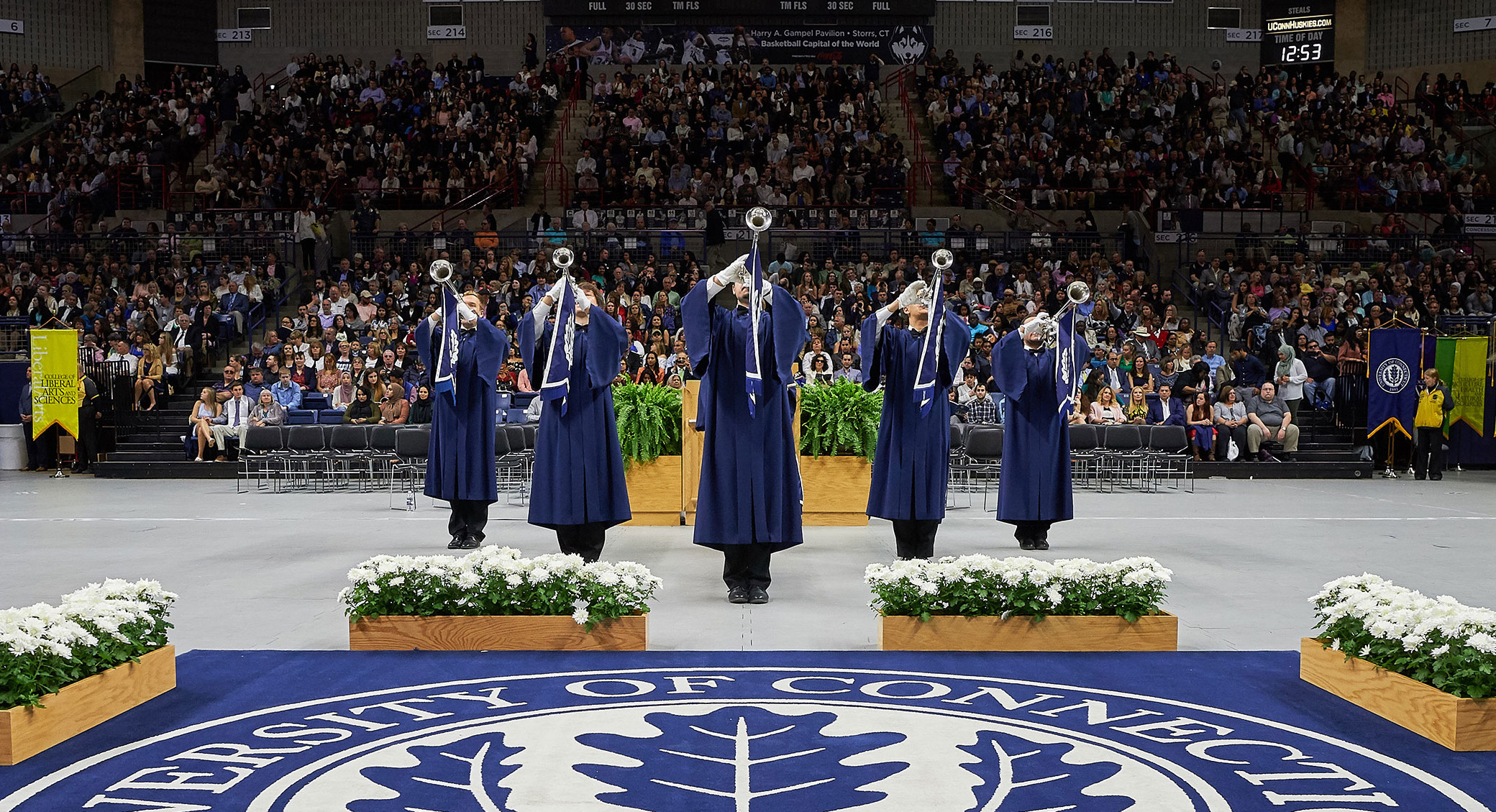 Commencement
Commencement at the University of Connecticut is a time of ceremony and pageantry, a time for marking academic achievements, and a time to begin the next step in life. Family and friends gather to witness the formal end to a student's college years; faculty, staff and trustees join in the tradition of conferring degrees; and students participate in an annual rite that marks their individual accomplishments.
The University of Connecticut is committed to helping reduce the risk that the COVID-19 virus presents to the UConn community and our state. There will be no in-person Commencement exercises in May of this year. To the Class of 2020, we know this is not the way you expected your time at UConn to end. We invite you to come together to be appropriately honored and recognized, as you deserve to be.
We invite graduating seniors to visit the Commencement 2020 website to find out more about the ways in which UConn will honor your accomplishments.
Ceremonies
Will UConn consider holding a virtual ceremony?
A virtual ceremony will be posted to the Commencement 2020 website on Saturday, May 9, 2020 for graduates to view at their leisure.
Will the ceremonies be rescheduled and held in-person on campus at a later date? Can you hold one large ceremony at Rentschler Field?
The University's Administration is exploring all possibilities to honor the Class of 2020. When decisions are made – both on short-term and long-term plans – information will be posted to the Commencement 2020 website and to the University's Commencement website.
Diplomas & Diploma Covers
When will I receive my diploma? How can I obtain a diploma cover?
May 2020 graduates will receive their diplomas 6-8 weeks after May 9, 2020. This timeline will not change at all from previous years. May 2020 graduates will receive their diplomas inside of a University of Connecticut diploma cover.
Program
Will UConn still produce a printed Commencement Program where all candidate names are listed?
Yes. The Commencement Program is currently in production and announcements will be made regarding distribution to our graduates.
Regalia
I purchased my regalia online and selected the "Ship to Home" option. What should I do to obtain a refund?
If the order has not shipped, the order can be canceled and a full refund will be issued.
If the order has shipped, DO NOT OPEN THE PLASTIC BAG CONTAINING THE REGALIA. Seal the box back up (or do not open the box at all) and return it to Oak Hall at the following address:
Oak Hall Cap & Gown
3812 Blue Ridge Drive
Roanoke, VA 24018
Oak Hall will refund your order (minus shipping and handling) as long as they receive it back within 30 days of shipment. The most important note is that the plastic bag the regalia is in must not have been opened! If it has been opened, the refund will not be processed. This is for health reasons.
I purchased my regalia online and selected the "Ship to Store" option. What should I do to obtain a refund?
A refund will automatically be issued to the credit card on which the regalia was purchased. There will be no need for you to pick-up or return any regalia at any time. Please allow up to 8 weeks for refunds to be processed. Oak Hall is working through the refunds as quickly as possible.
I am still interested in purchasing souvenir regalia for my own use (photos at home, videos, etc.). Can I still purchase a regalia package?
Yes. Please visit https://uconn.shopoakhalli.com to obtain regalia for your own personal use.
Should I buy regalia now with the hope that my 2020 ceremony will be rescheduled?
You are under no obligation to purchase regalia now. If UConn decides to reschedule the 2020 ceremonies, announcements will be posted and graduates will be instructed on how to purchase appropriate regalia.